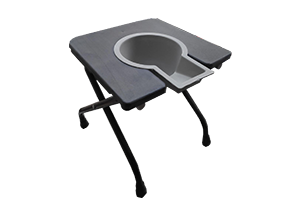 It is foldable and portable commode stool (Square Shape) for use in Home or Hospital. This toilet chair cum commode comes with plastic pot which allows to collect stool from any location. Pot can also be used to create mobile toilet just beside patient bed.
It is made up of good quality material. This toilet chair is specially designed for elder and disable patient. It has small gap which allow easy operation. It is easy to open, use and fold. Moreover small size and foldable allows to store in small space.

Features & Specifications :
- Foldable Commode Stool with Plastic Pot (Square Shape)
- The foldable design saves space and eases transportation
- Durable & made of good quality plastic
- Easy to Use & Wash
- Can be used in Home & Hospitals

Note: Prices are subjected to change at the time of delivery according to manufacturer's policy.