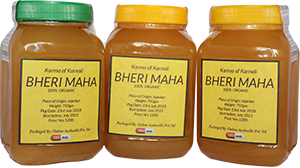 Nothing can match the comforting sweetness and classic taste of organic honey. Used through out the centuries, mankind's oldest sweetner turns everything it touches into something special.



Package Date : 23rd July 2018


Best Before : July 2021


Benefits:


Organic, Natural & Local Honey is thick, rich & delicious


Antiseptic & digestive properties


Loaded with vitamins, minerals and antioxidants


Uses:
Spread on toasts, cakes and even rotis


It is also used for baking and cooking purposes


Use as a natural sweetener over sugar


Applied as antiseptic over cuts, wounds and burns


Use for treating sore throat and cough


SAFETY WARNING:
Babies younger than 1 year old should not be given honey. Honey may contain Clostridium Botulinum spores (carried by bees), that can cause infant botulism- a rare but serious disease that affects the nervous system of young babies (under one year of age).
Note: Prices are subjected to change at the time of delivery according to manufacturer's policy.